Global IT trends in 2023
2022 is a year of challenges not only of a geopolitical nature, such as the war in Ukraine and the massive relocation of IT specialists from Belarus and Russia, but also a year that is accompanied by a decrease in the assessments of the Tech sector of the stock market, massive layoffs of teams in IT companies, etc. But despite this, IT products and solutions are implemented and tied into all spheres of life of a modern person, and in all companies and business processes, it is hard for us to imagine modern companies, even of an average hand, without CRM solutions, integrated digital marketing, own ERP solutions and e-commerce solutions for its customers, integrated into all areas of life, electronic payments and e-banking and electronic document storage systems and their digital signing. And this digital transformation is only at the beginning of its long journey. Today, countries and states are competing over who has switched to digital solutions more and become more digital, how to work with data and their storage, how to solve cyber attacks. We also see unprecedented demand in the segments of the military-industrial complex and developments in this sector, unmanned solutions and processing of big data and images from space, the development of space programs, and of course, bioTech as the fastest growing segment for digital transformations. It is stated that by 2030 most automakers will switch to the production of only electric vehicles and the active introduction of autopilots in these vehicles. And all these plans can be realized and realized only with the help of IT developments and IT engineers.
The Covid period around the world made huge changes in business processes, infrastructures, management models and proved to many companies that teams and developers can show good results, meet deadlines and expand their ability to hire the best developers by moving to external locations and attracting staffing providers for such expansion and transformation. Now you will not surprise anyone that most of the team of cool IT solutions is formed by 80% from remote IT contractors and IT teams of providers. And this does not prevent them from developing, entering new client markets, working safely with data and attracting funding and fundraising. In these transformations, only rentiers of commercial office real estate in megacities and landlords have not yet coped, which cannot be said about the competition of cities and countries in the struggle for a relocation point for representatives of the IT industry, such as Austin and Miami in the USA, which created strong competition for familiar California.
But the current realities pose a new challenge for managers and managers of IT companies and startups: it is necessary to keep budget expenses for IT teams and development, not to reduce the quality of maintaining and developing products and IT solutions in the company, but how ideal it is to attract the best IT engineers, which entered the market after a series of layoffs by tech giants, as of December 2022, there are already more than 180,000.


Modern challenges in the IT industry
Business and shareholders want from company managers:
Maintain the level of IT development and the quality of support for your IT products and solutions. The team must consists of good specialists, and not just ensures compliance with the terms of the contract in terms of price
Labor cost should be at levels 2022 or even less in total
Freeze hiring and expansion
Be able to efficiently and flexibly manage team scaling and costs.
Have the tools and be ready to quickly and cost-effectively rebuild teams and expand.
The challenges are quite serious and difficult to fulfill, but they are possible. One such tool may be, as in the era of COVID times, this is the transition from an outsourcing model, where it is quite difficult to manage the costs and a large dependence on the vendor, towards the development of our own remote teams of IT contractors and IT teams of contractors at different locations.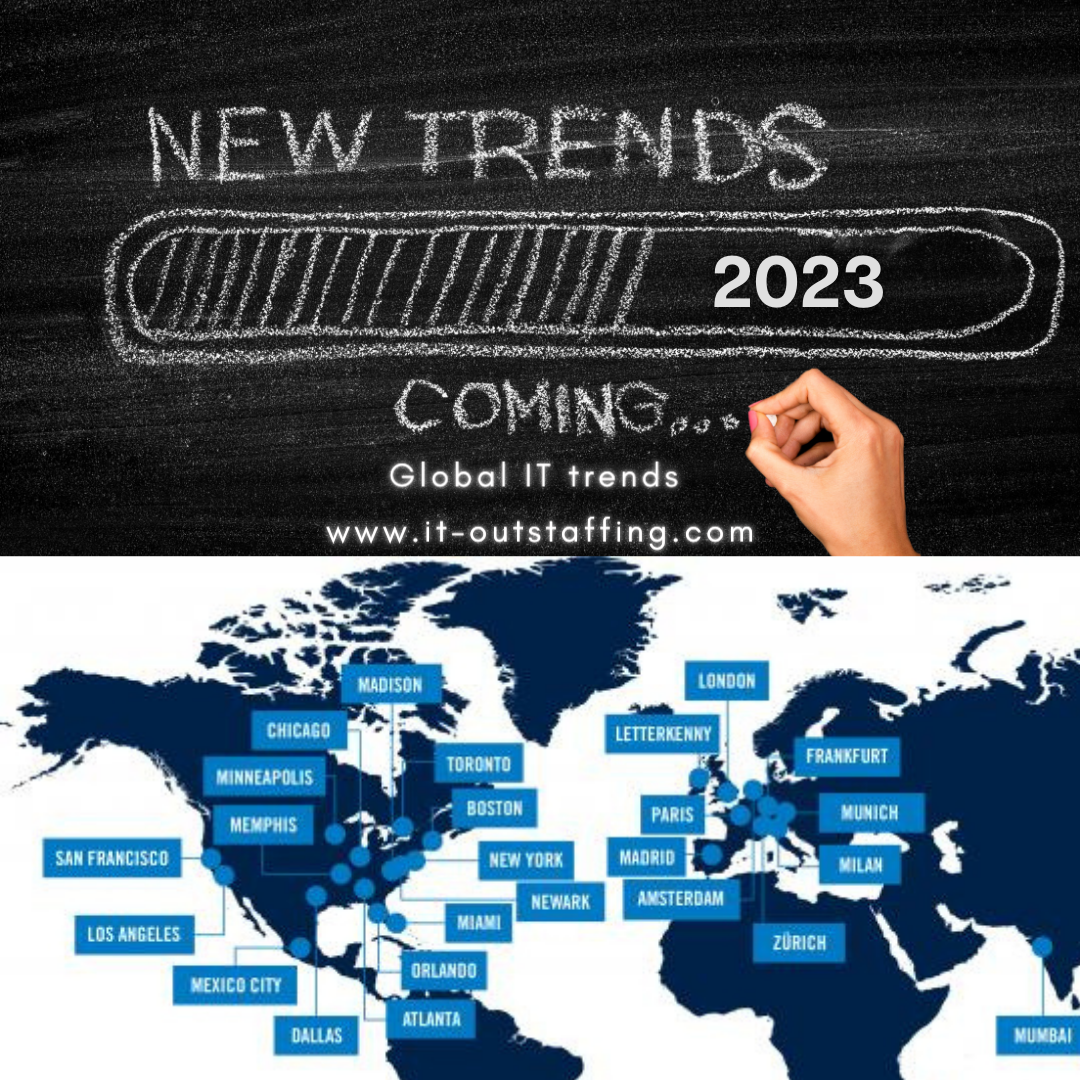 Using outside contractors are hired when a project needs extra hands: an urgent replacement of an employee is required, deadlines are burning, it is necessary to strengthen the in-house team or supplement expertise. This model is chosen because it is more convenient, easier, and cheaper than hiring an employee in the state.
In addition, the benefits of such an IT team transformation are:
flexibility in expanding and shrinking the team, no penalties
a wide technological pool, the ability to staff the best developers in all European locations. The global market allows you to quickly find the right specialist with the necessary qualifications, and not just find the lowest price or even choose from those who live in a particular city or region:
reduction of administrative costs for the maintenance of the office (rental of premises, provision of jobs, cleaning costs, etc.);
less involvement in operational issues (staffing, replacement, accounting support, payroll, etc.)
We analyzed statistical data with the cost of an hour of work of IT remote contractors in various fields from different regions in 2022. Let's consider them in more detail in the example of Senior level developers (developers android, sql oracle, coder programmer, ios developer, developer python etc.). But before that, let's dwell a little on the points concerning the demand for specialists in the labor market.
What is the most popular profession?
Today, Linux, MicroStrategy IT remote contractors are most valued, they are followed by Palantir Foundry, Azure, PostgresQL and others. SQL, Manual QA, DBA IT remote contractors are less paid on the market, however, these professions are now popular among those who have decided to connect their lives with the IT sphere, but in general there are really a lot of professions, there are options related to programming or not (software consulting, mobile development, it consulting etc.).


True, the demand for specialists and the level of their salaries differ not only within the global scale, but also in each individual region. This may be due both to the needs of the market of a particular country (the level of development of information technology where is no machines the demand for specialists is higher and vice versa), and the fact that some of the professions are more attractive to people, which is the reason for the emergence of more personnel and the relatively low cost of services in this area. Of course, that competition and competitiveness are different things, but still. And this, in turn, is one of the reasons why IT remote contractors are in demand.


Professionalism of IT remote contractors: which country has the best education?
Information technology and computer science are developing by leaps and bounds, and according to many forecasts, this is only the beginning. Therefore, the main advantages of professions in this area are obvious - high demand in the global labor market and a high level of income. To "enter the profession", you can:
go to an expensive university like the University of Cambridge, Imperial College London or, for example, the Technical University of Munich. But, there are no guarantees that a person is good in practice and can easily cope with any work after graduation and work with your dev team in different projects;
study on your own. Specialists from Ukraine and other countries of the post-Soviet space show themselves in their work no worse than graduates of world-class universities. At the same time, they do not attend classes at universities, but most of them take courses and work independently to improve their knowledge by watching educational videos on the Internet and re-reading books by famous authors.
Therefore, when you are looking for an employee, you should focus not on the presence of a diploma, but on his work experience, the reputation of previous employers, the level of qualifications assigned, etc. We will not delve into the issues of psychological stability, communication comfort and other similar points.
Further on the charts, you can see how much a remote employee earns on average in:
Ukraine, Moldova, Georgia, Armenia, Turkinistan, Kazakhstan, Kyrgyzstan
Estonia, Latvia, Lithuania, Bulgaria and the Balkan region
EU countries
For comparison, Python backend specialists receive approximately the same salary in all countries, so the price factor will not be a determining factor. But if we compare a QA specialist, then his salary differs significantly (based on the calculation of working 40 hours a week, then hiring a specialist from Ukraine (and not from Lithuania, for example) will save about $ 1,500 per month). The situation is similar with C++ remote specialists.


Below is a chart that shows the average salary of IT remote contractors in different countries in 2022. This is an average indicator and does not take into account a specific area (the indicator is calculated for those who work in engineer devops, full stack, desktop remote mac, remote desktop microsoft mac, develop google, android kotlin, developer android google etc.).


Where to look for an Angular developer?
Angular Developer is a web application client-side (FrontEnd) developer who uses Google's Angular as a framework to write efficient Single Page Applications (SPAs) with a single interface. Angular has been used to create web services for Gmail, Forbes, Upwork, PayPal, Weather.com, and many others. For a customer from America, a specialist from Argentina is more suitable, because there IT remote contractors in this area have a lower salary than in the Netherlands and other countries, and therefore even a slight increase in the average market cost of services will be more profitable for him and at the same time attractive for a specialist from Argentina.


Where to look for a ReactJS programmer?
Contractors found using outstaffing services from France, Estonia, Georgia and a number of other countries are more economically beneficial for the client than employees from the United States. The diagram shows that wages in France and in the US differ by almost 2 times.


Where to look for a React Native programmer?
But if you are interested in React Native programmers, it is better to negotiate with IT contractors from India or Argentina. Specialists from Serbia and Montenegro will ask for a higher reward.


Today, you can easily find a specialist (chrome remote, kotlin android, c# develop, android dev) from any country in your team and not worry that you will have to go beyond the budget agreed with the client or violate the terms of the contract in an attempt to save money. Below you can see the TOP 20 locations of IT remote contractors.


Cooperation with our company is something that is of interest to owners of various types of businesses who are interested in IT outstaffing. Thanks to 8 years of transformation experience, which helped more than a hundred companies of various levels to switch to the format of forming their IT departments and teams to work with external IT contractors and external teams, we will help you take your business to a whole new level. We have vast experience behind us (every year we process more than 1000 requests to search for specialists from different corners of the world) and therefore we are ready to offer the best options based on a detailed analysis of the market in different locations and with different technologies.


We understand how important it is for each client to be able to plan the project budget and ensure the high quality of its implementation. And therefore, we provide readers with the opportunity to request for free detailed statistical real data on the required tech skills and on the selected location for a clearer understanding of the real situation.


Request detail charts Tech stack, rate, locations for own transformations - mm@it-outstaffing.com